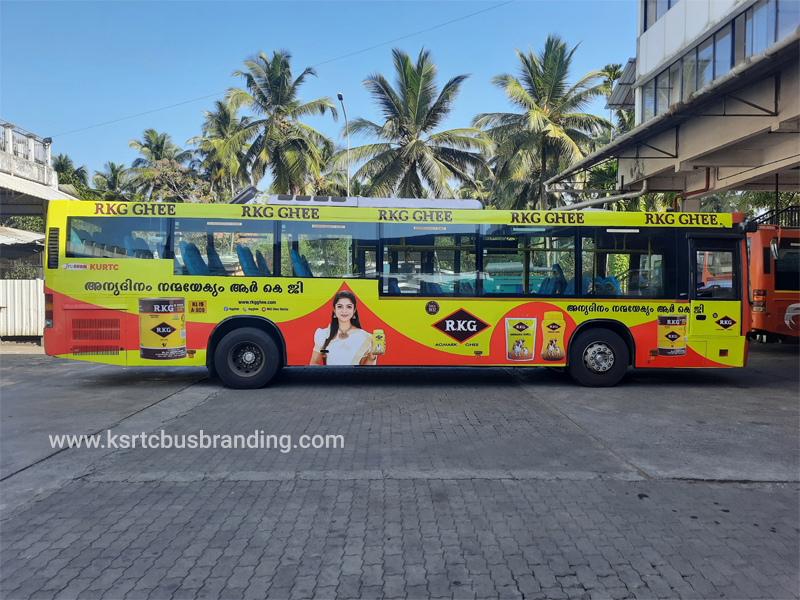 How Can KSRTC Bus Advertising Help a Business?
If you are a business owner, you will definitely search for best marketing ideas and strategies. At times, you may be able to spend huge amount as many of the marketing ways demands. Moreover, you may not get noticed in the sea of advertisements if we are not creating an impact. Thus transit advertising or KSRTC advertising is a great way to get noticed and remembered by potential customers without spending a fortune on it. KSRTC bus branding in Kerala is a best advertising option to reach more people across Kerala.
Outdoor media is one of the many mediums of advertising and KSRTC bus branding is one among them. Outdoor media is identified and viewed in the external environment, while other Medias are consumed within the internal environment. The KSRTC bus branding kind of marketing is focusing on customers when they are on the go. For example, in public places, in transit, while waiting, etc. These kinds of advertisements can be more fragmented, more unorganized and more localized when compared to the conventional medium of mass communication. Whether it is a retail store or national business, giving right ads can really make an impact on the potential customers. KSRTC bus advertising rates in Kerala is comparatively affordable with KSRTC bus branding.
Facts about Transit Ads
Here we can see few important facts regarding the KSRTC bus advertising. KSRTC advertising will truly help your brand to stand taller and stronger among your competitors. These points will help you to understand how well these kinds of ads can improve your business.
Enhance brand awareness
Increase sale
Reach more customers
You just can't be ignored
To promote the image of the company
Grab creative attention
You can choose your preferable geographic locations through which your ad must be run.
The size of advertising is usually large and thus it will be easily perceived by the customers.
KSRTC bus advertisements can be beautifully integrated with the ambient environment.
A most effective way to utilize the advertiser's media budget
You will get an impact for your brand 'on the go'; it could be on the road or while waiting somewhere.
They all are there, you will just need to grab
With this, you are getting an opportunity to deliver your message conveniently to the potential customers.
Affordable form of advertising
Frequency at no extra cost
Long exposure
You can be just in time