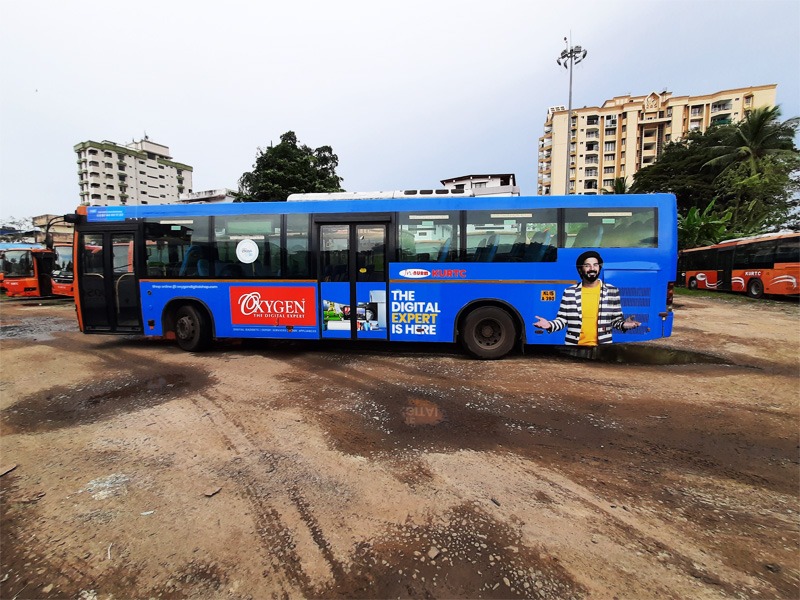 What is Bus Advertising and How to advertise on a Bus?
Are you looking for an advertising campaign to reach as many people as possible? Yes, you do. Transit advertising will help you achieve this goal of advertising campaign easily and more effectively. In case of bus advertising, buses and their related infrastructure is the medium used by advertisers to make their brands to reach the public. Bus advertising belongs to the OOH (out-of-home) section of advertising. OOH refers to any kind of promotional material that aims to attract customers from outdoors. Anyway, KSRTC bus advertising is one of the best ways for advertising campaign in Kerala. It is an effective way to take a message to any target area.
Despite the rise in popularity of digital advertising, there are some disadvantages for it. These disadvantages are not actually faced by the transit advertising. When you open something online, you may be seeing a number of online ads. Due to the increasing number of online ads many are ignored. People also use Ad blockers to block these ads as they may find it disturbing. So, when it is transit advertising we can't block it, click away or ignore it. As it is an out of home advertisement, people will definitely see it when they are out of their homes. KSRTC bus branding is a suitable and reliable form of transit advertising in Kerala for branding other advertising campaigns.
Target Audiences of Bus Advertising
When talking about bus advertising, a bus is essentially a moving billboard. It will be following commuters, other pedestrians and drivers of other vehicles throughout the day. This is actually providing a much higher exposure than a usual billboard can do as a stand still one. With this technique, you can have highly effective advertising to maximize the reach of your brand or campaigns in one go.
How to Advertise on a Bus?
We know buses are the major public transport on Indian roads. Most often they carry heap of your target audience. When you advertise with us on fleet buses, it provides massive advertising spaces so that it can bring a big advertising effect for your brand.
From the house of Chams Branding Solutions India Private Limited you can get best bus advertising solutions. KSRTC bus branding provides best designs and solutions to bring an unforgettable impact on a consumer's mind. Since it has a bigger space, it is giving better opportunity for innovation. We are providing cost effective way to turn the promotional buses to become a high impact and professional advertisement.